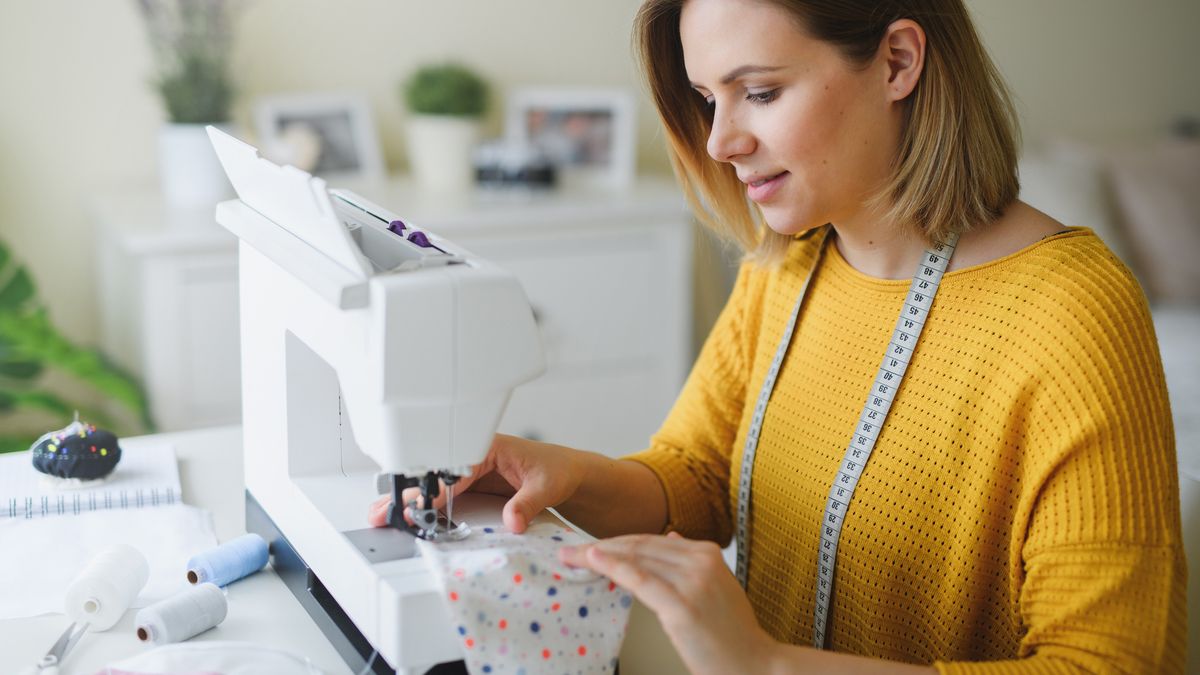 Whether you're a new or accomplished sewist, the best sewing machines can help bring your embroidery and quilting projects to life. From mechanical sewing machines to computerized machines, this guide delves into the different stitches each can offer, and which is likely to be the best sewing machine for you. 
On a general level, traditionalists are likely to favor the dial operated mechanical machines, while the built-in stitch capabilities of computerized sewing machines can help make the most complicated sewing tasks far easier.
When buying a sewing machine, there are various other features to think about too, particularly if you have a set project in mind. Ease of use is usually important when you're first getting started, and may make a sewing machine that displays a full chart of stitches advisable; for expert sewists, on the other hand, the priority is often accuracy and speed, and a fold-away stitch index may be preferred.
Price will usually be an important factor too, but with the best sewing machines suitable for beginners available for around $150, you don't need to break the bank to get started. And for those who want to explore other craft options, perhaps the best die cutting machines will be of interest too. 
1. Singer Stylist 7258: Best sewing machine overall
(Image credit: Future)
Singer Stylist 7258
This is the best sewing machine you can buy as it balances price with performance.
Singer Stylist 7258 is the best sewing machine for most people. It comes programmed with 100 different stitch patterns, including six different styles of buttonholes, so you have a lot to pick from, whether it's a basic straight stitch or something decorative. All the stitches are preset in the machine, but you can also alter the width and length manually on the sewing machine's LCD screen.
This computerized sewing machine has integrated speed control along with a stop/start button, so you don't have to use the pedal at all if you don't want to. It can reach a maximum of 750 stitches per minute, which isn't the fastest, but it's not far off. It has a little bit of a high-pitched motor and can be on the noisy side. It might not be the quietest sewing machine, but the teal color on the front of the machine is a nice design element that makes the Stylist 7258 stand out.
Along with a lot of stitch patterns this machine has a sewing light, thread cutter, instructional DVD, soft case for storage, automatic needle threader and a whopping nine extra sewing feet. Other sewing accessories like a seam ripper and extra bobbins are also included. That's a lot for your money, which is part of the reason why the Singer Stylist 7258 is the best sewing machine we reviewed.
2. Brother ST150HDH: Best heavy duty machine 
(Image credit: Brother)
Brother ST150HDH
The Brother ST150HDH is a brilliant sewing machine for those on a budget.
The Brother ST150HDH has a clear display and a smooth dial to choose from its 50 stitch options. 50 stitches is a somewhat small selection when you compare it to the other sewing machines we reviewed, but for day-to-day tasks you'll find this sewing machine more than capable. 
This sewing machine has a free arm, so you can use it to sew cuffs and collars easily and evenly. It also has five button options and a generous seven-point feed dogs display that will pull the fabric through the machine with minimal guidance. The Brother ST150HDH is a computerized machine, and it has a great backlit LCD display that will allow you to customize and control your stitch size and dimensions. The stitch key is hidden away at the top of the machine, which means the appearance of the Brother ST150HDH is uncluttered, but you may find it tricky to switch stitch in a hurry. That's a matter of preference though, so if you don't mind the flip-out display, it's a great choice.
3. Singer Quantum Stylist 9960: Best computerized sewing machine
(Image credit: Amazon)
Singer Quantum Stylist 9960
It doesn't get much smarter than the Singer Quantum Stylist 9960.
The Singer Quantum Stylist 9960 has an unbeatable amount of stitch patterns on offer. In fact, we'd be surprised if even the most advanced sewist used all 600. The machine is immensely smart. It has decorative stitches that display on its clear LCD display and up to 18 buttonhole options. You can choose the right one for you with this digital machine. 
If you like to take your sewing machine with you on the go, the Singer Quantum Stylist 9960 has a weight of 20 pounds, so it's not your best bet. It does have an attachable extension table that will offer you a clearer view if you're working on large projects. If you do have a large task at hand, you'll also be grateful for the 850-stitch-per-minute capabilities. 
The Singer Quantum Stylist 9960 is immensely capable. It has a huge range of presser feet attachments included, with an all-purpose, zipper, buttonhole, button sewing, blind hem, satin stitch, open toe, overcasting, darning and embroidery, and rolled hem foot, and that's not all. 
4. Juki HZL-LB5100L Best sewing machine for beginners 
(Image credit: Juki)
Juki HZL-LB5100L
This is the best sewing machine for those just starting out.
The Juki HZL-LB5100 is the best sewing machine we reviewed for beginners. It's one of the easiest machines you can use, and we found it a delight to use. The stitches are all automatic, meaning you won't have to adjust the tension and stitch width when changing the stitch. This is perfect for beginners who haven't mastered the complex workings of more advanced machines. 
The Juki HZL-LB5100 has 100 stitches to choose from. To use the different preprogrammed stitches, you simply reference the stitch key on the front of the machine. Then you change the number on the LCD screen to match the kind of stitch you want. Along with extra accessories like bobbins and a lint brush, this sewing machine comes with five extra sewing feet and an instruction DVD you can follow along with if you're new to the hobby. You won't need all of these as a beginner, but it goes to show that this machine will work for you even as your sewing skills advance. One element that won't advance with your sewing skills is the rate of stitches per minute, which tops out at 700. That's one of the slower machines we tested, so you may find it a little more cumbersome with large tasks. 
We also encountered minimal problems in our tests across a range of fabrics when testing the Juki HZL-LB5100. It didn't pucker on thick fabric like denim, and although it struggled with satin, we did find that this was common across all the machines we used. 
5. Brother XR9500PRW: Best for experienced sewists 
(Image credit: Brother)
Brother XR9500PRW Project Runway
Costume makers and fashion designers will love the aptly-named Brother XR9500PRW Project Runway sewing machine.
The Brother XR9500PRW is an immensely powerful sewing machine. It has 100 stitch patterns, as well as 55 built-in alphanumeric stitches and eight styles of auto-size buttonholes. These, as well as the width and length of your stitches, can be adjusted on the computerized LCD screen on this capable machine.
This machine comes with a hard case, and weighs just shy of nine pounds, meaning it's great for taking on the go if you need it for work. The flip-stitch guide is great for quilting, and all of these stitches are displayed on the front of the machine. The machine is quiet, and its instruction manual is very helpful. 
Some of our tests proved tricky with the Brother XR9500PRW. It's a great machine, but it does take some adjusting to. Particularly when sewing on denim, this machine was a little tricky to use, so beginners may find it a bit temperamental if they don't understand the difference that adjusting tension and stitch dimensions can make. 
6. Singer 7640 Confidence: Best sewing machine for making clothes 
(Image credit: Singer)
Singer 7640 Confidence
Power through complex projects and with the Singer 7640 Confidence.
We love the Singer 7640 Confidence for large projects and clothes making. It has 200 stitches to choose from, and you can easily adjust this as well as the width and length of your stitch with the easy touch buttons on the front of this machine. This machine comes with an extension table that allows you to see the bigger picture as you work on large-scale projects, and it's easily removed for smaller tasks. 
This is a reasonably priced machine when you consider just how many features are on offer. The computerized Confidence 7640 has automatic stitch settings, but one downside to this machine is the location of the stitch key. Instead of listing them right on the front of the machine, they're on a separate card, which is a little inconvenient. Aside from that, it has several great features like a sewing light, extension table, thread cutter and automatic needle threader. It comes with nine extra sewing feet, including an even feed walking foot, saving you money. Speed control is also built into the machine, along with a start/stop button so the fabric you're working on won't get away from you if you press too hard on the foot pedal. The Singer 7640 Confidence does 750 stitches per minute. That's not loads – in fact, it's one of the slowest machines we reviewed.  Every time you start sewing though, the first couple of stitches are slow to ensure an accurate line.
This sewing machine put out 69.3 decibels of sound at full speed, so it wasn't the quietest but it also wasn't the loudest we tested. The alphanumeric stitches really make this machine stand out and can be entered into the machine's memory. Essentially, you can program the machine to sew out a sentence while you sit back and watch. This Singer can sew so many different stitches, you're never going to run out and it's all-around easy to use.
7. Singer 4423: Best cheap sewing machine 
(Image credit: Singer)
Singer Heavy Duty 4423
This is a powerful, fast, and reasonably priced sewing machine.
Sewing an incredible 1,100 stitches per minute, this mechanical sewing machine has some serious muscle. During our tests we tried sewing through four layers of denim on this machine and it worked just as well as on two layers of cotton. 
The Singer 4423 only has 23 stitch patterns, but if power is your priority then you don't need hundreds of frilly stitches. We noticed some puckering while working with satin but overall this machine works really well, it just lacks some of the fancier features of computerized models. All that power means this sewing machine is by no means dainty: it hit 71.4 decibels sewing at its fastest, the loudest of the machines we tested. However, this sewing machine is ideal for your heavy duty sewing projects.
8. Janome JW8100: Best compact sewing machine 
(Image credit: Janome)
Janome JW8100
A small but mighty sewing machine, perfect for those with limited space.
The Janome JW8100 is a fantastic sewing machine for those with limited space. It's compact but capable, and you can add buttons with this sewing machine's three different styles of buttonholes or hem skirts and pants with commonplace stitches. While you're sewing, tap the needle placement button to send it to either its highest or lowest point, making for tight turns and secure stitches. 
The stitch key doesn't come on the front of this sewing machine, meaning you could lose it if you don't keep it in the accessory drawer on the front of the arm attachment. As well as a free arm option, this sewing machine also comes with an extra wide extension table attachment. You get four extra sewing feet and a handful of sewing accessories as well, and a hard cover for when you need to store your machine when it's not in use, making the Janome JW8100 sewing machine worth its slightly higher price tag.
9. Brother HC1850: Best sewing machine for quilting 
(Image credit: Brother)
Brother HC1850
The Brother HC1850 is a great machine for both sewing and quilting.
Those with a love of quilting will enjoy the Brother HC1850, but we don't love its somewhat outdated-looking design. While it looks a little old, it has a modern computerized design that won't disappoint. The Brother HC1850 has all 185 of its stitches displayed on the front of the machine itself, and it's easy to decipher and program your stitch of choice on the LCD screen. The 185 stitches on offer include alphanumeric options, as well as decorative styles. For monogramming and quilting, as well as creating fabulous garments, it's more than capable. 
The Brother HC1850 comes with a bunch of extras including a hard protective case, wide table, seven sewing feet, a variety of needles, and four bobbins for running multiple projects simultaneously.  
10. Juki HZL-355ZW-A: Best mechanical sewing machine 
(Image credit: Juki)
Juki HZL-355ZW-A
Take this basic and easy-to-use sewing machine with you everywhere.
The Juki HZL-355ZW-A is an easy-to-use sewing machine with a simple design. It's not computerized, but for those seeking a traditional mechanical model, it's a good option. This machine does cost a similar amount as computerized sewing machines, which for the comparably scant offering of stitches and speed, isn't exactly a selling point. If the price is right for you though, or if you see it on sale, this is a great choice. 
With a carry case and sweet pink and white design, this would be a great starter machine for teens and new sewists. The Juki HZL-355ZW-A has 26 stitch patterns and everything you need for most projects, including a buttonhole option and stitches for blind seams. If you work on garments, you'll make good use of the free arm design, but it doesn't have an extension table for large projects. The Juki HZL-355ZW-A goes up to 750 stitches per minute, which isn't the fastest machine we reviewed, but it's also not the slowest by any means. 
How to choose the best sewing machine
During testing and research, we evaluated machines that aren't super expensive and would work well for someone fairly new to the hobby or even someone who has been doing it for a while but is looking to upgrade their current model.
Brooke Johnsen lives in Utah and sews almost every day. She said it's important to get a machine to meet your own needs whether it's quilting, embroidery or just repairing the occasional pair of pants.
"I would say less is more to be honest," she said. "The very first machine I had, had 150 decorative stitches. Some had good uses but most were just decorative. Like if I were to use that design across my whole quilt, it would take so long."
According to a representative for JOANN Fabric & Craft Stores, you should test drive any sewing machine before you buy it.
"The sewing machine needs to work for what the customer wants to do, and be easy for them to understand," they said. "Metal inner parts are best as the machine is less likely to break and will run more smoothly. However, other factors should be based on personal preference."
(Image credit: Future)
How Much Do Sewing Machines Cost?
If money is no object, you can find high-tech sewing machines on the market for more than $1,000. However, the average price of a sewing machine is around $250. The computerized models tend to cost more than the mechanical ones, but that's not always the case so shop around. Some sewing machines come with supplies like needles and seam rippers, which can cost around $5 when purchased separately. Extra sewing feet can be purchased separately as well. A pack of about 30 will cost you about $25 but some specialized feet for quilting can cost $30 just for one.
Choosing a Sewing Machine: Computerized vs. Mechanical
Modern computerized sewing machines have a lot of perks, especially if you're a newbie. Stitch settings change automatically rather than having to do so manually, as you would with most mechanical machines. On the other hand, mechanical sewing machines tend to feel sturdier and cost less, making them ideal if you deal with high volume sewing on tough, thick fabrics. In general, you should always try to test a sewing machine before you buy it and ultimately purchase one that feels good to you.
(Image credit: Future)
Most modern computerized sewing machines with a moderate price tag come standard with a few features: a sewing light, automatic needle threader, thread cutter, a free arm for sewing around the cuffs of sleeves or pant legs and drop-in bobbin. 
You'll need to decide how you'll use the sewing machine to prioritize what other features you want. If you're going to quilt you'll want an extension table but if you're just going to be doing basic garment repair you could forgo most of the frills and get a less expensive mechanical machine. Read the packaging closely as well to see how many sewing feet come with the sewing machine because it will to save you money. 
Round up of today's best deals
Reduced Price
SINGER® Stylist™ 7258…
Singer Stylist 7258
Walmart
$299.99
$229.99
View
See all prices
Reduced Price
Brother ST150HDH Sewing…
Brother ST150HDH Sewing Machine
Amazon
$299.99
$261.16
View
See all prices
Reduced Price
SINGER | Quantum Stylist 9960…
Singer Quantum Stylist 9960
Amazon
$499.99
$429.99
View
See all prices
Reduced Price
Brother XR9550PRW Sewing and…
Brother XR9500PRW
Amazon
$252.40
$234.64
View
See all prices
Singer 7640 Confidence…
Singer Singer Confidence 7640
Walmart
$228.69
View
See all prices
SINGER 4423 Sewing Machine,…
Singer Heavy Duty 4423
Amazon
$179.99
View
See all prices
Janome JW8100 Fully-Featured…
Janome JW8100
Walmart
See all prices
Brother HC1850 Sewing and…
Brother HC1850 Sewing and Quilting
Amazon
See all prices
Refurbished
Juki HZL-355ZW-A Sewing…
Juki HZL-355ZW-A
Amazon
See all prices
We check over 250 million products every day for the best prices
powered by