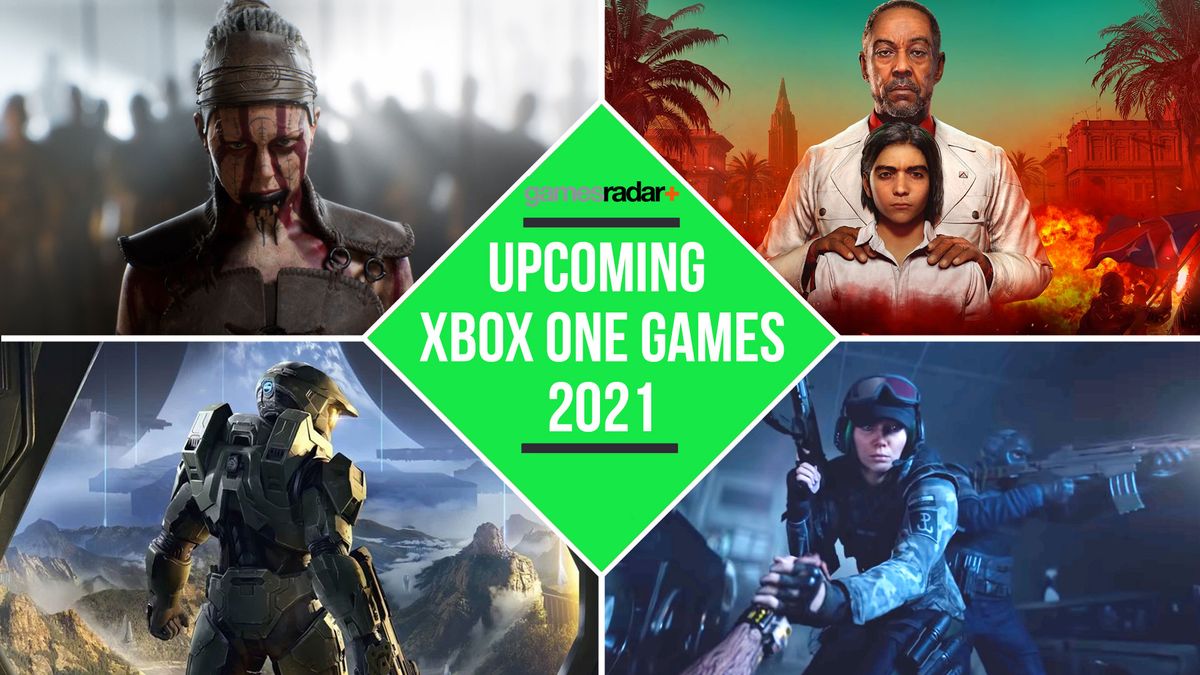 The upcoming Xbox One games are the titles that are due to hit Microsoft's last-generation console in the next year and beyond. Even though the Xbox Series X and Xbox Series S and all of their associated upcoming Xbox Series X games and Xbox Series X launch games exist, there are still plenty of upcoming Xbox One games on the horizon.
The continuing strength of the upcoming Xbox One games list is thanks to Microsoft's promise to keep including the now last-gen console as part of the Xbox gaming ecosystem with the new consoles, along with PC. Basically, there's still plenty to look forward to on the Xbox One. 
We've highlighted all of the upcoming Xbox One games we're most looking forward to, ordered by launch date.
Resident Evil 8
(Image credit: Capcom)
Release date: May 7, 2021
Genre: Survival horror
What is it? The latest entry in the Resident Evil series. But this time with giant vampire ladies. 
What to look out for: Resident Evil 8 Village is set a few years after the last big series entry – Resident Evil 7: Biohazard – and continues Mia and Ethan's storyline. However, it's not all a happy family story as you'd expect. Instead, Ethan will have to contend with the return of Chris Redfield, who he'll have to follow into the mysterious titular village to get answers for what Chris has done. It looks set to be brilliantly creepy and weird AF as you'd hope. 
Back 4 Blood
(Image credit: Warner Bros.)
Release date: June 22, 2021
Genre: Survival Horror
What is it? A co-op zombie survival horror with a focus on four-player co-op.
What to look out for: This is Left 4 Dead 3 in all but name, even though this is technically a new IP. It's the same four-player co-op gameplay, with vast numbers of zombies, different types, and offers the same distinctive style and loud personality that you'll be familiar with from the Valve games. It's a fantastic romp for you and your friends and we can't wait to team up. 
Lego Star Wars: The Skywalker Saga
Release date: Spring 2021
Genre: Action adventure / Lego
What is it? All nine Star Wars films remade in one Lego game. Epic. 
What to look out for: The Star Wars / Lego crossovers have consistently delivered blocky brilliance, but this is going to be something else. Being able to play every Star Wars movie in one ultimate compendium is going to be amazing, especially when you consider that this isn't a remaster of the original Lego Star Wars game, but brand new games with graphics that blend realistic elements with Lego blocks and figures, with constant splashes of developer TT Games' trademark humor. Just watch the trailer and tell me I'm wrong.
Vampire: The Masquerade – Bloodlines 2
(Image credit: Paradox Interactive)
Release date: TBC 2021
Genre: RPG
What is it? A vampire RPG – need we say more?
What to look out for: Vampire: The Masquerade – Bloodlines 2 throws you into the seedy underbelly of Seattle where creatures roam, but thankfully you're a vampire. Turned as an act of vampire terrorism during the 'Mass Embrace', you'll soon get caught up in vampire faction politics, where you're still just trying to deal with your new way of life. This is an RPG at its core too, filled with player choices, a strong narrative, and branching dialogue options too. 
Far Cry 6
(Image credit: Ubisoft)
Release date: TBC 2021
Genre: Action-adventure
What is it? Far Cry is back, and it's got angrier. 
What to look out for: Far Cry 6 is the latest in the long-running series and will take us to a fictional country called Yara, set on an island in the heart of the Caribbean, which is clearly based on some Southern American locations. The country is run by the president, Anton Castillo (played by Giancarlo Esposito of Breaking Bad and Mandalorian fame), who was elected off the back of his idea to rebuild paradise, but as you can see, it's not exactly going to plan. Thus, a guerrilla revolution has risen up to fight against him, and you play as one of the guerrilla fighters, a character called Danny Rojas – who you can choose to play as male or female.
Halo Infinite
(Image credit: Microsoft Xbox)
Release date: TBC 2021
Genre: Action-adventure
What is it? The next-gen, next stage adventure for Master Chief and co.
What to look out for: Originally slated to release in Holiday 2020 as an Xbox Series X launch title, 43 Industries' follow-up to 2015's Halo 5 is now coming in 2021, and it'll be a simultaneous release on Xbox One and Xbox Series X. During a recent showcase, a trailer showed off our first proper look at gameplay in Halo Infinite. The 8-minute video offered a glimpse at some of the new features coming to Master Chief's arsenal, including a grappling hook. 
Senua's Saga: Hellblade 2
Release date: TBC
Genre: Adventure
What is it? A surprise sequel to Hellblade coming to Xbox Series X. 
What to look out for: Okay, so technically this is really for our list of upcoming Xbox Series X games, but we have a sneaking suspicion it may well also launch across the Xbox One family too. The sequel, called Senua's Saga: Hellblade 2 is a bit of a mystery right now, as all we've had for it is a slightly unnerving teaser trailer, which involves face paint/blood, scary singing and chanting, and more disembodied arms with fingers trying to grab at you. Nightmarish. It all suggests another harrowing journey for our troubled hero.
Rainbow Six Quarantine
Release date: TBC 2021
Genre: Action
What is it? A brand new three-player tactical co-op FPS set within the Rainbow Six universe. 
What to look out for: Rather than existing as a spin-off of the highly successful Rainbow Six Siege, this is actually a new game entirely. Rainbow Six Quarantine is is a brand new three-player co-op PVE multiplayer title, where you play as Rainbow Operators facing off against a mutated alien parasite that's started infecting the human race. Yum. 
Skull and Bones
(Image credit: Ubisoft)
Release date: TBC 2021
Genre: Pirate ship sim
What is it? A naval combat game themed around pirates and being a pirate. 
What to look out for: Although it's been delayed, and delayed, you should still be excited about Skull and Bones. Taking inspiration, and source material, from the naval combat sections of Assassin's Creed 4: Black Flag, Skull and Bones is all about making masts crumble into matchsticks, bringing multiplayer to that watery combat with big boats and a lot of loot. There's a single-player campaign too, where you can practice your best Jack Sparrow impression, we're just not sure when you'll actually get to play it.
Dying Light 2
(Image credit: Techland)
Release date: TBC
Genre: RPG / Survival horror
What is it? A sequel to the ever-popular Dying Light. 
What to look out for: Parkouring zombie killing is the name of the game in Dying Light, and you're about to do it all again in Dying Light 2. Building on the success of the original, this game takes place 15 years after the first, with one human settlement still standing amongst the infected world. This one is leaning heavier into the RPG elements, with difficult choices to make that result in sacrifices and locking off parts of the map. You'll help some, and hinder others, but it'll be an exciting journey nonetheless. It's bigger, better and more brutal. 
Beyond Good & Evil 2 
Release date: TBC
Genre: Action-adventure, space exploration    
What is it? The long (looooooong) awaited prequel to the last-last-gen classic. 
What to look out for: Space monkeys. A vast sector of the universe to explore with your ever-expanding ship crew. Gameplay that scales from ground-level, action-adventure to full-scale, interstellar flight. A densely textured, philosophically fuelled civilization that explores slavery, control, genetic engineering, cultural cross-pollination, and all the long-term, spiraling knock-on effects that come with that. Beyond Good & Evil 2 might have taken the best part of 15 years to appear, but Michel Ancel's follow-up looks so, so much grander, more exciting, and more thoughtful than we ever imagined it could be. 
Looking to upgrade your Xbox to take full advantage of all these new games? Here are the best Xbox One X deals. Or if you're thinking more about next-gen, be sure to check out our rundown on everything we know about the upcoming Xbox Series X price, pre-orders and bundles.
Get the best Xbox Series X deals first!
When the Xbox Series X pre-orders officially go live, we'll email you with all of the best bundles and prices. Initial stock might sell out quickly so you won't want to miss out!
Send me details about other relevant products from Gamesradar and other Future brands.
Send me details about other relevant products from third parties.
No spam, we promise. You can unsubscribe at any time and we'll never share your details without your permission.