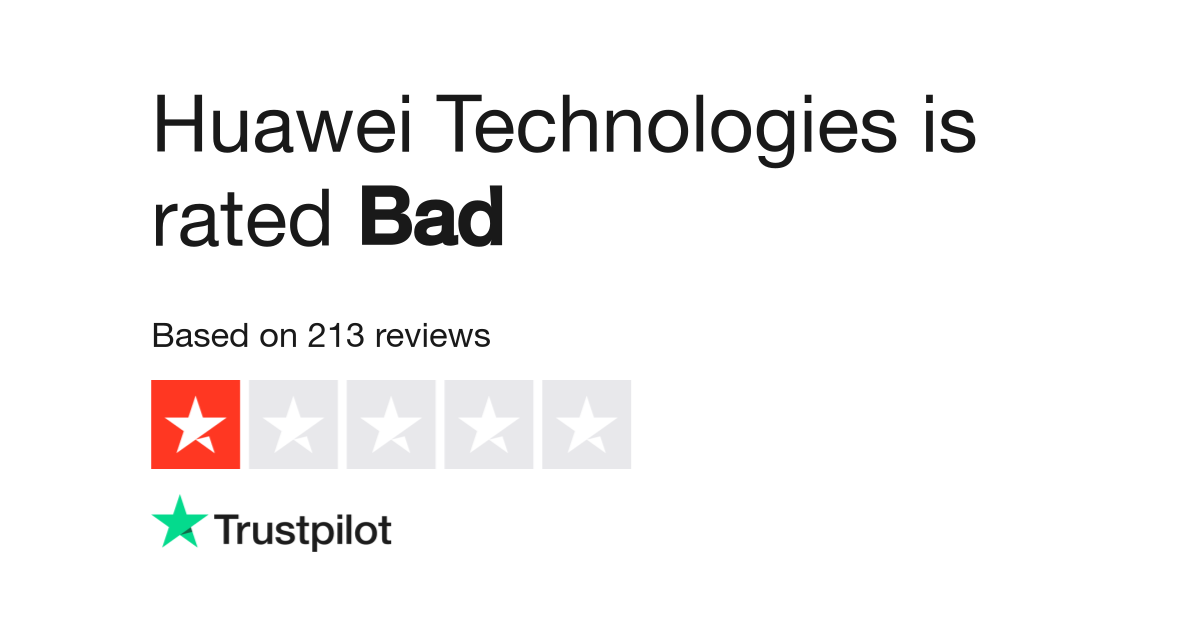 The Huawei matepad pro continually freezes from day one. Bought from Lewis who want nothing to do with it after numerous phone calls. John Lewis gave me Huawei repair centre address so I sent it off to them. It was returned with the same fault. John Lewis still refused to change or refund the item and demanded an engineers report. Huawei supplied me with one and it was clear that no work had been carried out ! Why couldn't it be fixed ? Later they offered to supply a second made up report…???? Having been totally worn down presenting my case and quoting consumer law without any success I've placed the matter in the hands of my credit card company to help me an will pursue my rights through the courts if need be.
Much the same as everyone else's experiences on here except I couldn't even pay for my product as their site for some reason doesn't accept Halifax debit cards as valid payment! Customer services was useless so bought the machine from the online Comet store instead which means I had to miss out on the free gifts which judging by everyone else's experience I wouldn't have received anyway. Shame because the laptop is good. In compensation they offered me 5% off any purchase from their website …. I mean, is that a joke??
After over 10 different correspondence with various customer services personnel, I have concluded that while some of the people care, the policy makers and management simply DON'T.
I urge you to avoid the appealing offers and promotions. I bought a laptop with the promise of 2 free gifts – a watch and a pair of headphones. Fair enough. If you spend nearly £900 on an i7 2020 laptop.
Promptly realised they did not send the gifts.
1st rep says just go to promotion page and claim.
Next rep says, don't need to claim. Should be sent automatically.
Next rep, says we realise error from ecommerce team. They will get back to you.
Never did hear from them.
2 more calls. Wait a bit longer for a resolution.
Final call today. Told won't get the gifts as they have run out. Yet website still promises new orders that they have free gifts with their purchase of the exact same laptop I brought.
Conclusion – they lie!
Mate20 pro Phone developed a green line down the screen shortly before the warrenty expired. Was asked to make conatct with the UK repair centre who its seems were closed due to Covid restrictions.
3+ months on and still no contact, if reliability and customer service are important, stick to Samsung.
Was a big fan of Huawei now I feel this company should be investigated by trading standards failing to honour guarantees.
It has been 104 days since I paid for my £950 for a laptop advertised with a free matepad 10.4.
This pad has not arrived and they just keep sending me generic responses with little to no justification.
They even had the cheek to blame me for not entering the correct details on their claim's website. What really happened is they provided incorrect validation. The web developer's fault – not mine! My device was not listed in the dropdown list.
After ringing them four times and sending half a dozen emails nothing has been resolved. I feel like I have been miss-sold a product.
104 days. If you ever read this Huawei then I'm going back to Apple.
17/02/21
Well, it seems that I am not the only person to have been 'had' by this sham company.
Last week I had the misfortune to speak to a very, very incompetent woman who promised to phone me back on a previous occasion and didn't.
I spent over an hour trying to get this incompetent
f$!wit to put me through to somebody I had spoken to, and she kept refusing to do it. She also refused to give out the mailing address of Huawei so I could write a letter to them, claiming this is protected information.
Well, I Googled the address and sent a letter to their customer services dept.
That letter was ignored. Today I phoned and spoke to a lovely helpful, friendly lady who assured me that she had emailed a manager directly to contact me today.
Guess what? NOTHING.
I'm going to contact BBC Watchdog and Trading Standards
A FURTHER UPDATE
Today I received a call from Huawei.
They will offer me a £50 voucher to buy something else, which of course I don't want or need. However, to settle, I chose a pair of mini speakers £49.99.
Then they expected me to pay £6 carriage on top of that, so my £50 is actually a £44 voucher.
IN MY OPINION – ABSOLUTE CON-ARTISTS
PS…. Even their CEO can't be arsed to respond to my email
UPDATE…….
I had a standard template from Huawei telling me that they would contact me in 24 hours. Of course they didn't.
I even emailed a senior manager directly asking for his help.
NOTHING!!!!!!
In my opinion, don't touch these people with a bargepole. If they were concerned about the poor reviews, they would actually take time to reply.
…………………………………
In these dark, dark times, there are 2 things that help re-assure me.
1) Trump no longer has the nuclear codes.
2) Huawei will not be handling 5G in the UK.
Why?
Well, I bought a smart watch from them in December. It came with a promotion of a mini speaker. The watch was delivered the very next day, and it is brilliant.
However, NO SPEAKER, but enough room in the box for it which the watch was in.
I contacted Huawei and was told I had to wait 14 days to claim it. After 14 days I was told I had to wait 21 days.
I have spent so much time on the phone to these incompetent and utterly useless people, being passed from pillar to post.
The escalations dept. have been investigating this for 23 days now……. All this aggravation for a speaker that probably costs £5 to make in China.
However, luckily I found a form online where I could contact the CEO of Huawei directly. Luckily for me he is so customer focussed. I submitted the form, and got a reply from the complaints team – so he doesn't actually get to see it.
My decision, and perhaps anybody else who scores this awful company with 1 or less star, is to contact BBC Watchdog and Trading Standards.
I've emailed their complaint team just now and challenged them to get a manager to call me today. Let's see if they do…….
Very poor customer service. Bought a sports watch and faulty after 2 weeks – Jim Customer Service adviser was so blasé. I told him we bought mid Dec on time for Christmas – they don't honour Christmas dates. Never again – repairing a watch after 2 weeks!!!
I initially had nothing bad to say about Huawei as I purchased a P30 and a Matebook from them with no issues. Devices were fantastic and customer service was good. Delivery was bad, and I don't know why they choose to work with the mess that is DHL but that's another story altogether. My 1 star rating comes from how disappointed I am with their return services. After 2 great devices, I wanted to try a P40 smartphone, but long story short, it turned out to be unusable. You have no idea how many things are indirectly impacted by google services that Huawei and tech people on youtube don't tell you about. I couldn't even use my banking app, diary, order a takeaway or login to my games. Anyway, I kept the phone in perfect condition and returned it within the return window. Everything seemed to go okay. Except I made the return in early December, it was received the next day, but for a month and a half I got no updates and no refund. I chased this up every week and they kept saying I'd get an update within a week. I didn't. My return page still doesn't show that they've received my parcel or that they've began processing my refund. In fact, they somehow cancelled my previous return and opened another return today, and emailed me another return label. What do they expect me to send them??? I have proof that my actual return has already been received by Huawei so I'm not afraid of being scammed, but this is just such a mess and taking ridiculously long. At least make an effort to keep us updated for goodness sake. I have absolutely no problem with customer service; they have been very polite and helpful so far, but the higher ups that are running this whole process are taking the mickey at this point. I've had more efficient returns from actual scammers.
I've gone from being an avid supporter of Huawei to being absolutely disgusted with them having had to buy from them direct (as opposed to being perfectly happy when I was getting my phone thru o2)…they do not honour discounts, their website is absolutely crap and doesn't work properly! I ordered a Matepad Pro on the same day which went thru, but the order for the Mate 40 Pro I needed to put on a family member's Amex (with their permission) so Huawei's site decided that I was a threat and blocked my accounts & any further efforts to buy as a guest or any other variations as soon as my name/address/contact number/email were mentioned etc (& trust me tried various methods, different tablets/phones/pc's etc, even from different postcodes & IP's)…I presumed once I contacted their customer service the next day that the matter would be resolved & I could proceed with my purchase…how wrong can you be!!!! This started on the 10th December & over a month later, and NUMEROUS lengthy calls to their 'customer service'(& I use the words loosely!) all I've got for my troubles is a huge headache! The attitude of a couple of their staff was quite rude, but most whilst helpful just appeared to be incapable of actually sorting anything out. There is No complaints process apparently…they speak of managers, but you cannot speak to one (if they exist!) & requests for them to contact you are taken on the "I can't guarantee they will contact you" basis! I have emailed the CEO's office at their Head office (via a page on their website) a few times but heard nothing either.
My 10% discount code has expired (in fact I've lost 2!) , the offers/bundles are no longer available & nobody actually gives a toss if I buy the £1200 purchase or not!
I find it amazing they manage to stay afloat with this attitude quite frankly!
I only kept the Matepad Pro because it was quite nice, and I already had a Mate 20 Pro phone…. The bundled Sound X speaker is the ugliest speaker I've seen in years…it's like having an enormous bowling ball!
At this point unless Huawei honor my 10% discount and give me the order for what I was paying for it, they can get stuffed…. I only wanted the phone for the camera…so I hope the other companies will up their game so I don't even have to think about purchasing from this lot ever again!
I ordered two tablets on 22nd December, which were sent by DHL and were not received.
I spoke to huawei who couldn't possibly have been any more unhelpful if they had tried. I was told to chase up DHL myself and provide proof that I hadn't received the items. Surely its their job to do this, I ordered from them, not DHL?
Anyway as I said I received very little communication or help from huawei, DHL are insisting it was received so I've had them harassing me over the phone, they actually sent the delivery driver who claims he delivered my parcel back to my door to challenge me! I am now sitting in my house scared that this man knows where I live and that I've somehow landed him in trouble.
Huawei sent me an email the other day saying a replacement has been approved. I wasn't sure what this was so I spoke on live chat to Brandon, who was able to confirm to me that I would be receiving another order. Not the friendliest person.
Today after receiving an email from DHL telling me the courier would be back out to speak to me, I contacted huawei again to let them know I just want a refund now as its been 20 days since I ordered and I have had far too much stress and anxiety over this issue. I was once again greeted by Brandon, who spoke to me the way I'd imagine a teenage boy to speak to his parents. He was patronising, rude and not helpful at all. I was told to await my delivery then contact them for a return. Whether I even receive my replacement is also a question, but these items were bought as a Christmas present, they weren't cheap and not only am I not being compensated, I'm being made to feel like a nuisance because I'm the only person trying to actually solve this problem!
I will never order from here again, nor buy any of their products.
Bought a Huawei tablet from Argos in November 2020, now its Jan 2021 and it cant even flip between a browser and other app without a massive delay.
I could have more use of the cash i spent, had i wiped my backside with it instead of buying this absolute dog of a device.
USELESS COMPANY.
Save yourself a lot of stress and frustration don't buy a huawei product.
Sent phone to be repaired first time on the 21oct returned on the 29 th oct same fault.
Sent phone for second time 9 nov returned 13 nov still same fault.
Sent phone 3rd time 16 November this time I was told cannot repair phone we will replace the phone.
The phone that was offered had a much lesser specifications so I rejected this phone.
After weeks on the phone to customer service and I'm talking about over 30hrs of conversations I was offered another phone of lesser specifications I rejected that one .
At this point I was told there was nothing else we could do after another 2 weeks of calling customer services sometimes 3 times a day each time being told it was going to be escalated up that never-ending ladder to a supervisor.
AS YOU CAN IMAGINE HE DID NOT HAVE THE DECENCY TO RING ME BACK.
After being told and promised that he would by customer services.I had to ask for the phone back .
I received the phone back in 2 days fault not fixed and now out of its warranty.
Judge for yourself but I will never touch another huawei product in my life.
Happy new year to all and stay safe.
I've had quite a few Huawei phones and non of them work. The storage is always full when there's nothing on the phone, it removes photos and music and it never chargers properly. And it always shuts down or freezers and removes what your doing. I will defiantly not buy theses products again. Everyone please don't buy Huawei phones.
If anyone intend to buy from Huawei store, please go through the comment section. I haven't seen such a disorganized customer in my entire life. If you want to return the product, please be aware that they would put you into stress by refusing the package and the endless saga of arranging returns with whole blame on DHL. I was made to feel like this is an organised crime mafia where the customer is pushed to think about taking the product even when they don't want it, just to avoid stress. I have sent a mail to their CEO and no response. Dear possible customers, Huawei has some serious issues with their service and never think about buying from them. I guess the Google suspended their licence to support Huawei for legit reasons..
Bought a pro 30 phone, having given up on iPhone, only to find that the software package, called HiSuite, supplied with phone was useless in getting hold of my music from my iPhone, let alone my playlists. Transferring photos from the phone to my apple laptop is also a pain, but I'm sort of prepared to accept that, but my music?
I returned Freebuds Studio last week and can see DHL delivered to their warehose on the next day. When I called for status update, customer support told it will take 14 days to refund. Why this delay? Huawei is holding the money and it is affecting my other transactions. I won't purchase again from their store. I wil use Amazon or othsr online store instead. If I didn't get the refund by 29th, I am contacting my credit card to raise the dispute.
Returned my device on 13th of November, arrived on 15 November, refund approved 23rd November.
23rd December, no refund, no information from the team despite daily chasing over email and phone other than: "this issue is being looked into and a refund will be on its way ASAP"
Emailed head office also, still waiting on a response.
All this for a brand new laptop that after light use and never leaving its place on a desk after 5 months started freezing.
Bad product, bad customer service.
Feel sorry for the customer service agents as they cannot do anything other than chase up on a case.
Wish you could leave a 0* review.
Got my Matebook 14 laptop, Sound X, earbuds & mouse(for free). More than happy with their products quality.
Cheers!
They do not acknowledge returns for refunds for 14 days. The fact it's now Christmas and New year, it will take nearly a month from the time they received the item back to the funds being sent back to my bank. Do not buy from them! The sale and delivery of goods are sufficient (surprise surprise) but if you have an issue, you'll struggle to get the support you need.
Sent my wife's phone repair 2 days ago. Had a message today that they are sending back. They have not told me anything only they sending back. I am glad I only paid £169 as will go in bin. Feel sorry for anyone spending they hard earn cash on these rubbish products. Stick to my iPhone thanks. Wife will get a new Samsung.
I will not be recommending this company to anyone.
Edit, these guys actually fixed phone the whole process done in 3 days.
Is Huawei Technologies your company?
Claim your company profile to access Trustpilot's free business tools and start getting closer to your customers today!
Claim your free business account

Source