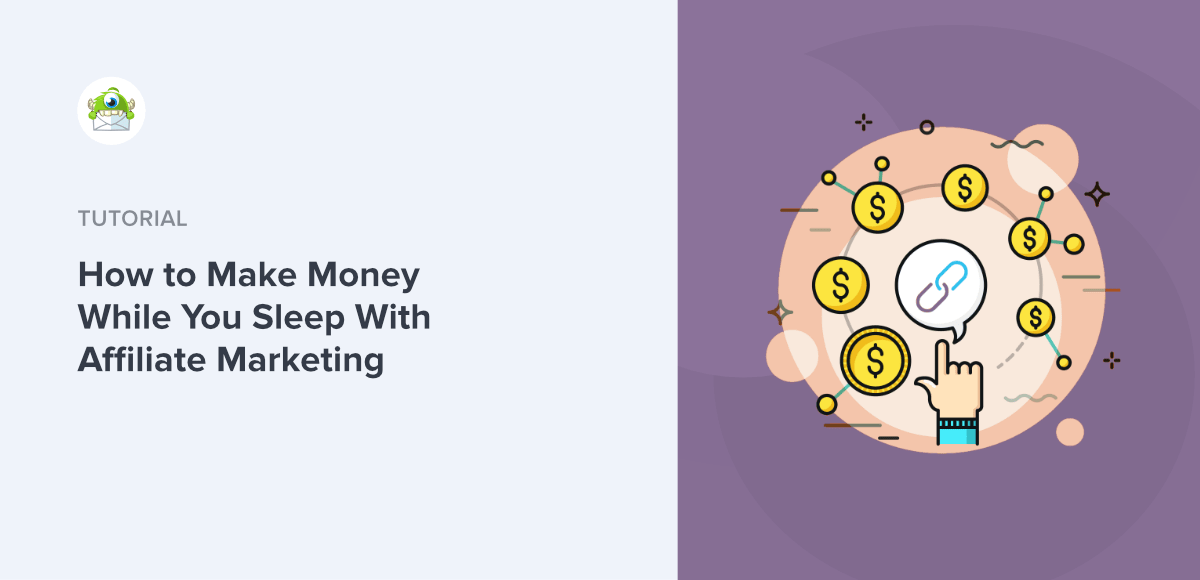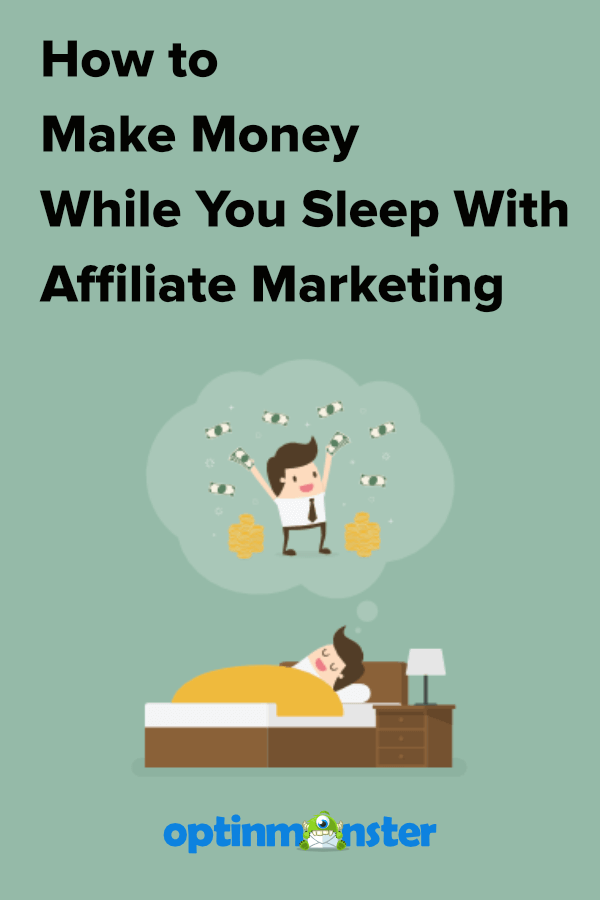 Affiliate marketing is about making money. Gobs of money. Money for doing nothing.
At least that's what a quick Google search would have you believe, but as usual, the truth is a little more complex than that.
Yes, you can make money through affiliate marketing. Good money. And, yes, you can even make money while you sleep.
In this post, we're going to teach you how to generate passive income with successful affiliate marketing. If you're brand new to it, this post will help you get started.
If you're already into affiliate marketing, you'll probably still find something in here you haven't thought of before. ?
Before we get in too deep, let's start with a very brief definition.
What Is Affiliate Marketing?
Affiliate marketing is when an online retailer pays you a commission for traffic or sales generated from your referrals.
It's essentially classic advertising in a less intrusive way. Rather than promoting a product on your website with visual advertisements, like this:
You simply embed the product link in your content, like this:
In the image above, the affiliate partner is Bluehost, a company that offers self-hosting services for websites.
So does that mean you can create a website, toss in a bunch of affiliate links, and watch the affiliate commissions roll in? Not quite, but we'll get to that.
For now, you simply need to know the basics with how affiliate marketing works:
You recommend a product or service to your followers through your website, blog, or email list.
Your followers purchase the product or service using your affiliate link.
You get paid a commission for the sales made using your affiliate link.
Let's break down this process into more detail to make sure you know exactly how to make a successful affiliate marketing strategy.
Now that you know the basic definition of affiliate marketing, you're ready to learn how to create your own affiliate marketing plan in 5 easy steps.
1. Create a Website or Blog for Your Niche
To make money with affiliate marketing, you need to decide 2 things:
How will you build your website or blog?
What will your website or blog be about?
Luckily, WordPress makes that first part easy.
With WordPress, anyone can quickly build a professional-looking website.
Plus, WordPress has more tools to help their sites perform at a higher level than other website builders. Finally, since WordPress has such an extensive community, you can quickly troubleshoot and solve any problems you run into.
If you're interested in making money with affiliate marketing, WordPress is definitely your way to go. You can check out these tutorials if you need help building your site:
How to start a WordPress blog
How to make a website with WordPress (step-by-step-guide)
Note: If you build a website with WordPress, you may want to consider self-hosting by choosing WordPress.org instead of WordPress.com. For that, you should definitely check out Bluehost as they have the most affordable hosting plans on the market!
Now that you have a website where you can showcase your affiliate links, you'll need to determine what your site will be about. We call this finding your niche.
To choose your niche, you need to answer a few questions:
What are you passionate about?
Is this topic big enough to attract an audience?
Is there money in this niche?
Remember, your goal is to combine your passion and expertise with a topic that other people are interested in, too. That way, you can enthusiastically promote products that your audience will want to buy.
Speaking of which, your next step is to choose your affiliate products.
2. Choose Affiliate Products to Promote
If you've done the work to choose a niche, choosing affiliate products to promote should be easy. Choose products that fit your niche and relate to your content.
One of the best ways to select your affiliate products is by joining an affiliate network.
Affiliate networks are businesses that connect merchants and affiliate marketers so both can earn more money. Affiliate marketers use affiliate networks to make better product selections to promote on their site.
There are many affiliate networks out there, but here are a few of the most popular.
ShareASale
CJ Affiliate
ClickBank
Amazon Associates
One of the benefits of affiliate networks is they typically have more data on how well a product sells. You can then use that data to increase your affiliate marketing profits.
For more information, check out our helpful post: Earnings-Per-Click: How to Win Big at Affiliate Marketing.
Anytime that you can make data-driven decisions rather than "going with your gut" is an excellent opportunity to optimize your affiliate strategy.
3. Use an Affiliate Management Plugin
When you're first starting out with affiliate marketing, you're probably going about it in the same way as everyone else: you join an affiliate program, find a bunch of products, and start embedding your affiliate links everywhere.
And that process will work really great, right up until the point when it doesn't.
Because as you start getting deeper into the world of affiliate marketing, you're going to need to keep better track of where you've embedded your affiliate links. This is especially true if your affiliate partners update product links on their end.
Imagine having to sort through and update hundreds of expired affiliate links when you have no idea where you've put them. You're looking at hours of headaches and tons of wasted profit from expired links you'd forgotten about.
Fortunately, this is one nightmare that can be avoided with an affiliate management plugin. And one of the best ones on the market is Pretty Links:
Pretty Links is an affiliate marketing management plugin that lets you keep better track of your affiliate links. It's easy to set up, super user-friendly (even for marketers who are less tech-savvy), and allows you to put your marketing on auto-pilot.
If the day ever comes where you're asked to update old affiliate links from your partners, you'll be able to accomplish it in minutes, not days.
Plus, if you do find you run into any trouble, they've got an amazing support team to help you at each step of the way.
So if you're serious about making money with affiliate marketing, we highly recommend you get an affiliate marketing management plugin like Pretty Links to keep yourself organized from the get-go.
4. Create Quality Content to Promote Affiliate Links
Now that the framework of your site is ready to go, you need to create content.
Keep in mind that some affiliate networks require you to have a lot of content, site traffic, and monthly views before they'll accept you as an affiliate partner. That means that if you're starting out, you should make content creation priority #1.
But how much content do you need to get started?
You should have around 5 quality pieces of content with more scheduled for later. There are many types of content you can create, but the 2 most popular are blogs and videos.
New to content marketing?: We have an excellent beginner's guide to content marketing to help you get started. You should also check out our SEO guide to optimize your content to drive traffic to your site.
As you're creating your content, place your affiliate link where they'll get the most exposure. A good rule of thumb is to promote your affiliate products early on in your content.
For blogs, that means within the first 25% of the post. For videos, it's usually within the first minute of the recording. That's because most of your audience won't read or watch your entire piece of content.
By putting your affiliate links upfront, you increase your chances that your audience will click them.
5. Boost Your Affiliate Revenue With OptinMonster
One of the biggest mistakes new affiliate marketers making is assuming they need to 10x their traffic if they want to 10x their profit.
It actually doesn't work that way, which is great news for you.
If you use OptinMonster, you could increase your revenue by converting more of your existing traffic into affiliate customers. Without a doubt, this is way easier than drastically increasing your traffic.
That's the exact strategy Top 6 Digital used to increase their affiliate revenue by 30% with OptinMonster.
They had a webpage on car seats to help parents choose the right one for their child. When the reader was leaving this page, the following campaign would appear on their screen.
These powerful campaigns have been proven to increase conversions and boost sales. Plus, you can use a variety of methods to promote your affiliate products.
You could use Cookie Retargeting to create personalized campaigns with your affiliate product based on data you've already obtained from your customers.
You could also display a campaign with your affiliate product on related content with Page-Level targeting or Exit-Intent® popups.
Ready to Join?: Skyrocket your affiliate revenue with OptinMonster by signing up today, risk-free with our 14-day unconditional money-back guarantee.
To help you get started, here are 3 actionable steps you can take to make money with affiliate marketing by using OptinMonster.
3 Ways OptinMonster Can Make You More Money Today
1) Rely on the 80/20 Rule
The 80/20 rule, in this case, suggests that 80% of your profits will come from 20% of your content. It's obviously not an exact metric, but the basic principle stands firm:
Identify your highest converting content and make it a priority for affiliate campaigns. 
Once you know that a particular post or video is resonating with your audience, you can create a targeted campaign with OptinMonster to increase affiliate sales.
This is a much better strategy than blindly making campaigns for every page on your site.
Just getting started with your affiliate strategy? Try this out:
Create a list of the top 5 pieces of content on your site that get the most sales or traffic. Then use OptinMonster to create an Exit-Intent® popup campaign displaying your affiliate product for those pages.
Once you're getting stellar results from those campaigns, you can repeat this process for your next 5 highest performing pages.
This strategy will ensure that you're always prioritizing your most profitable content. That means you can save time and increase revenue as efficiently as possible.
2) Understand Your User Intent
As you're creating these OptinMonster campaigns, you need to step into your audiences' shoes. Ask yourself why your audience is reading that content in the first place? What problem are they trying to solve?
And, most importantly, what do they want to get out of that content that will add value to their lives or business?
Once you understand your user's motivation for visiting your content pages, you can tailor your campaign copy to meet their needs. The more personalized your campaigns are, the more persuasive they'll be.
In fact, creating personalized campaigns is how Expat.com used OptinMonster to grow its community by 30,000 members a month!
New to copywriting? Check out these 69 copywriting templates that are proven to convert.
3) Build More Yes/Yes Campaigns
In the past, we've talked a lot about how Yes/No campaigns can be incredibly effective. Traditionally, those campaigns include 2 options for the user to click:
Yes: Takes your visitor to the offer you're promoting
No: Closes the campaign
In a Yes/Yes campaign, though, both you and your customer always come out ahead.
That's because a Yes/Yes campaign uses both the Yes and the No option to redirect users to the same page, but for different reasons.
For the Yes option, your audience can take advantage of a special offer or deal.
For the No option, they're getting the resource they need, but they aren't interested in using the offer presented in the campaign. Here's the perfect example from a Yes/Yes campaign:
The Yes option says, "Yes, I want a Free Domain" and redirects users to Bluehost's homepage where they can get a domain name totally free.
But not everyone wants a free domain name, such as users who already have one from another domain provider. What these users want is to build a website.
So the No option redirects them to Bluehost's homepage as well, but for a different purpose: they "just want to build a website."
The idea is that your users' intent can be slightly different but served by the same OptinMonster campaign. As a result, click-through rates go up, more of your users get what they actually need, and your affiliate revenue increases.
It's a true win-win scenario.
If you use this strategy, though, make sure you track your No conversions to make sure you're getting accurate data about your campaign's success.
You can do that by going to your campaign's editor, and clicking the No field block to pull up the editing tools on the left-hand side:
Then scroll down to your button's Action:
And click the toggle switch to activate Conversion Tracking:
This way, you'll have a more accurate conversion rate with your OptinMonster analytics report.
And that's it! You now know exactly how to make money with affiliate marketing. Plus, you have 3 actionable tips for using OptinMonster to skyrocket your affiliate revenue.
Got any cool tips for affiliate marketers? Reach out to us on Facebook, Twitter, or in the comments section below. We love hearing from readers.
You can also stay up-to-date on how OptinMonster can improve every aspect of your marketing strategy by checking out our YouTube channel. But don't forget to subscribe and "like" the videos you find helpful.
And if you haven't already, then join OptinMonster today to get the same results for your website as it's currently getting for 1,000,000+ others!