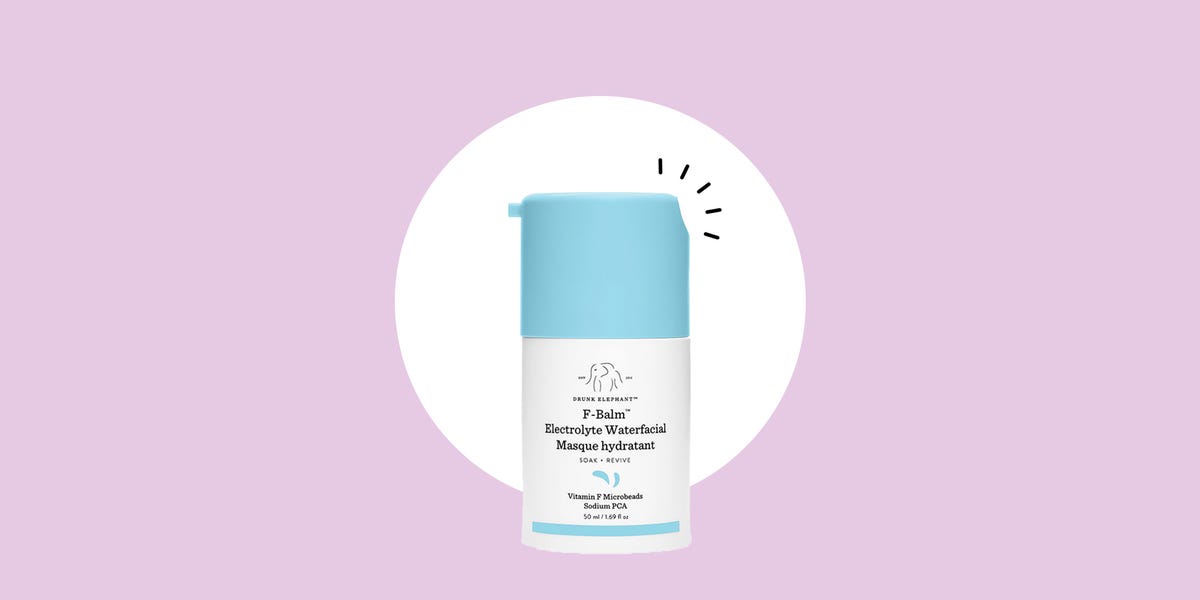 1 La Roche-Posay Hyalu B5 Hyaluronic Acid Serum 30ml
courtesy of brand
La Roche-Posay feelunique.com
£37.07
buy now
"With continued use, this genuinely makes your skin look like you've only drank water and eaten greens for a month. The hyaluronic acid sits in two different molecular sizes; the bigger of the two replumps the surface and the smaller ones penetrates the skin barrier to work from within… it's all very techy. I just love how dewy my skin looks tbh." Keeks Reid, Contributing Beauty Writer
2 Sarah Chapman Skinesis Glow
Courtesy of brand
Sarah Chapman Skinesis lookfantastic.com
£51.20
buy now
"This glow-giving facial oil has become one of my most-used skincare products. Not only is it uber-nourishing on my dry skin, but it also tackles damage caused by blue light pollution and contains a ceramide complex that keeps skin healthy." Victoria Jowett, Beauty Director
3 Squalane + Probiotic Gel Moisturizer
courtesy of brand
Biossance cultbeauty.co.uk
£44.00
buy now
"As someone with acne inflammation and a total intolerance of the sun, I'm prone to redness on my cheeks. Ever the cynic, I didn't believe Biossance when they told me their customers often saw a reduction in redness after 3 days using this product (and I didn't believe *namedrop* brand ambassador JVN when he recommended Biossance in general). Skip ahead to me using it for ONE NIGHT, and waking up with calmed, even skin. It's my new ultimate favourite. It wasn't a fluke – to this day, I'm willing to scrape out the empty tub with a toothpick, this stuff's so effective. Sorry JVN. I'll listen next time." Kate Pasola, Beauty Writer
4 F-Balm Electrolyte Waterfacial
Courtesy of brand
Drunk Elephant cultbeauty.co.uk
£44.00
Shop now
"If there's a time of year when I want to self-soothe in a duvet swaddle, it's winter. So I'll be cocooning my face with this skin-barrier replenishing overnight "waterfacial" (mask to you and me). Packed with moisture-loss-preventing ceramides and cheek-plumping omega fatty acids, this is the only cocktail I'll be having for the foreseeable." Laura Capon, Deputy Beauty Editor.
5 Skin Regimen Hydra Fluid 50ml
courtesy of brand
Skin Regimen feelunique.com
£58.00
buy now
"This super light moisturiser is marketed as great for applying post-shaving because it's really non-irritating which was really the allure for me to use it after I wax my upper lip every month. If you apply the wrong thing post-wax you can be met with a bumpy mess, but this leaves your skin so soft and hydrated and not-clogged up!" Keeks Reid, Contributing Beauty Writer
6 BOBBI BROWN Vitamin Enriched Face Base 50ml
courtesy of brand
BOBBI BROWN selfridges.com
£45.00
buy now
"I use to steal this from my mum's dresser when I lived at home (sorry, mum) and I still love it years later. It's just the silkiest moisturiser that makes a fab base for makeup. It's especially great dry skin– I hate when makeup clings to dry patches or doesn't blend properly and this eliminates that." Keeks Reid, Contributing Beauty Writer
7 CeraVe Cream to Foam Cleanser 236ml
courtesy of brand
CeraVe asos.com
£12.50
buy now
"In the mornings I always wash my face before I hop in the shower and then I do my skincare afterwards. Not really sure when I developed this bizarre routine but it works. This is the perfect morning cleanser for me because it leaves skin feeling fresh as it foams but doesn't leave your face feeling tighter than your favourite jeans post-lockdown in between washing it and applying my serum." Keeks Reid, Contributing Beauty Writer
8 Umbra Tinte Physical Daily Defence SPF 30
Courtesy of brand
Drunk Elephant cultbeauty.co.uk
£30.00
Shop now
"I've tried so many sunscreens in my mission to find one that doesn't break me out. From oil-free to all-natural, they all seems to give me those tiny under-the-skin bumps. That was, until I found this ah-mazing formula by Drunk Elephant. Free from essential oils, drying alcohols, silicones, chemical screens, fragrance/dyes and SLS, this SPF kept my skin happy and breakout-free." Victoria Jowett, Beauty Director
9 Soy Face Cleanser
Courtesy of brand
fresh cultbeauty.co.uk
£11.50
Shop now
"If you want a cleanser that removes everything, from makeup to dirt and excess oil, this is for you. The low-foam formula dissolves impurities and leaves the complexion feeling clean – without stinging your eyes or leaving your skin dry and tight. It's perfect if you don't fancy faffing around with multiple makeup removers and  just want a one-stop-shop." Victoria Jowett, Beauty Director
10 Ren Clean Skincare Radiance Glow Daily Vitamin C Gel Cream 50ml
courtesy of brand
REN Clean Skincare feelunique.com
£31.31
buy now
"Before I tried this, I wasn't on the vitamin C bandwagon. Loads of products I tried had the super-ingredient in it but I just didn't see how it enhanced my skin. But after using this gel-cream for a few months I noticed how much my skin was glowing before I'd even put on makeup. It was the product that made me feel more confident to go out sans base product." Keeks Reid, Contributing Beauty Writer
11 SuperHydrate Moisturizer
courtesy of brand
moisturizer elfcosmetics.co.uk
£12.00
buy now
"Ok, the consistency is weird – don't say I didn't warn you. It's like jelly. But it's deceivingly hydrating due to its star ingredient, squalene. It also contains niacinamide which is a great ingredient if you, like me, can have an uneven skin texture." Keeks Reid, Contributing Beauty Writer

12 Murad Vita-C Glycolic Brightening Serum
courtesy of brand
Murad lookfantastic.com
£57.60
buy now
"I've never met a Murad product I didn't like, and this one just took the top spot. Vitamin C is a tricky ingredient to bottle effectively, but this one is gold-stabilised (fancy) and teamed with dead-skin-slaying glycolic acid for a brighter, healthier-looking complexion. My skin looked improved within days of using it and I don't plan on stopping." Cassie Powney, Beauty Editor 
13 The Ordinary Hyaluronic Acid 2% + B5, £5.90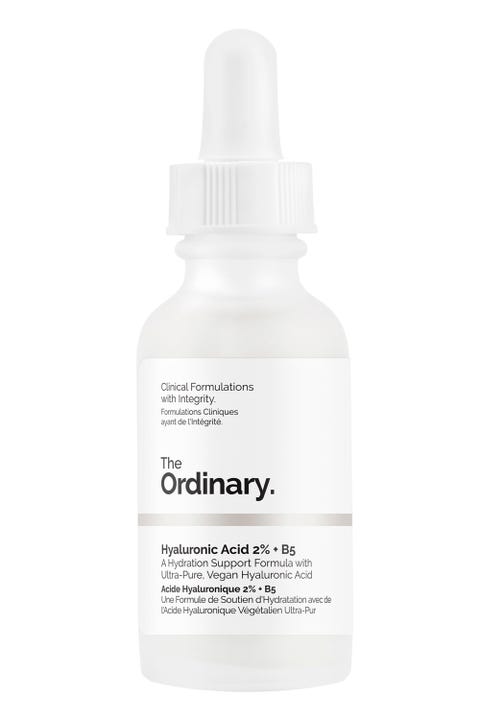 Courtesy of brand
"Hyaluronic acid is my favourite skincare ingredient and its the one thing I wouldn't be without because it makes such a difference in plumping out those fine lines that are becoming more and more common now I'm in my thirties. This one by the Ordinary is the most effective you will find for the price." Laura Capon, Deputy Beauty Editor
Shop now
14 Ole Henriksen Transform Plus PHAT Glow Facial 50ml
courtesy of brand
ole henriksen boots.com
£42.00
buy now
"I'm huge fan of using exfoliating acids in my skincare and PHAs are gentle acids that work at sloughing off dead skin to reveal the glowy, illuminated skin beneath. I'm use to the more potent AHAs that we have in our skincare in things like serums and toners so I was sceptical about the effectiveness at first. But, this mask really does work wonders, when I wash it off my skin looks so much brighter and plump." Keeks Reid, Contributing Beauty Writer
15 CeraVe Smoothing Cleanser
courtesy of brand
CeraVe lookfantastic.com
£9.00
buy now
"Sometimes, I have to push my magpie tendencies to one side and accept that the product in the fugly bottle is The One. Case in Point: this frill-free gel cleanser, offering three types of ceramides and a gentle foaming action to remove dirt. I love it because it feels gentle enough to lather all over my face (including my sensitive eyes), and leaves my skin feeling clean and refreshed without any tightness. The dream." Cassie Powney, Beauty Editor 
16 VERSO Acne Deep Cleanse
courtesy of brand
VERSO lookfantastic.com
£35.00
buy now
"I'm a double-cleansing obsessive, and I've got a borderline dependency on this stuff, and use it as a second wash after removing my makeup with an oil or balm. It contains salicylic acid, which means it gets rid of those annoying congested bumps on my nose, and shrinks my zits a treat. But it's also packed with niacinamide and Zinc Pca, which are anti-acne, but also moisturising and help your skin cling to moisture. Plus, it's got glycerin and a couple of other soothing ingredients, so the formula is somehow gentle enough to be used once (sometimes twice!) per day. My acneic little skin can't live without it." Kate Pasola, Beauty Writer
17 Blemish + Age Defense
courtesy of brand
Skinceuticals skinceuticals.co.uk
£90.00
buy now
"I've been having some issues with texture recently, every morning I'd wake up with teeny-tiny little blemishes and those annoying under-the-skin spots across my jawline and lower cheeks. That was, until I started using this serum. It's totally decongested my skin, leaving it smooth and bump/blemish-free. It's non-drying, so perfect if you have sensitive skin but want an effective anti-blemish treatment." Victoria Jowett, Beauty Director
18 Epionce Medical Barrier Cream
courtesy of brand
Epionce  skincity.co.uk
£31.00
buy now
"This one is a rogue choice, because it was developed for clients who've undergone skin procedures and left with chapped, dry, sore skin. But hear me out, because it's a mainstay in my own skin first aid kit. You know when you've cleansed and things are feeling stingy, and you just know a serum, moisturiser or face oil isn't going to be enough? Enter, the Epionce Barrier Cream. Overdone the retinol? EBC it. Sunburn? EBC it. Mask irritation? Air conditioner skin dry-out? Stressed skin? Heartbroken? I swear to god, Epionce Barrier Cream fixes it all. For a cheaper option, you can try Boots' Your Good Skin Cica Cica Repair Sleep Paste. Leave it on overnight, gently cleanse in the morning, and you'll be good to go." Kate Pasola, Beauty Writer
19 Dilo Oil Restorative Treatment
courtesy of brand
Kate Somerville cultbeauty.co.uk
£55.00
buy now
"It doesn't matter that I see the word "dildo" every time I look at the bottle, because this is up there with my all-time favourite face oils (and I've tried a lot). It does contain a bit of fragrance, which I wouldn't recommend for sensitive skins, but oil is such a pampering part of my beauty routine that I'll admit, I do crave a bit of a scent when applying it. This one's also packed with barrier-restoring lipids and absorbs super quick, keeping skin hydrated for the remainder of the day/night." Cassie Powney, Beauty Editor 
20 Dr Hauschka Clarifying Day Oil, £26.50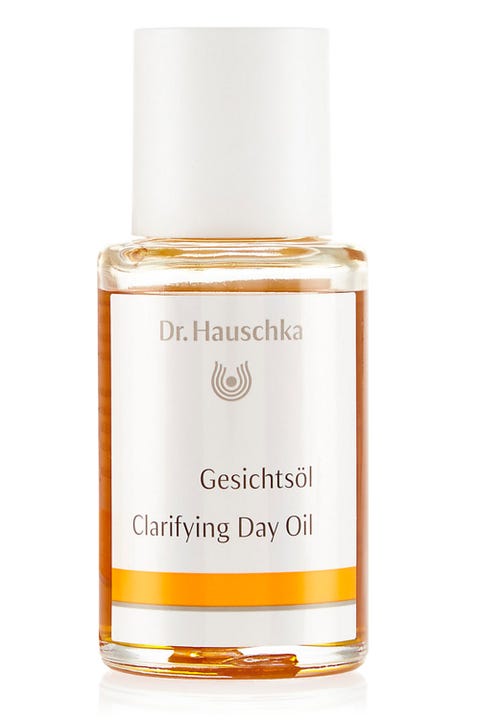 Courtesy of brand
"I LOVE Dr Hauschka's clarifying face oil, my skin can bounce between being super-dry and super-oily, so when it's on the oilier side I reach for this. Don't ask me how it does it, but somehow the formula 'balances my skin' and brings it back to a happy medium. It reduces shine, calms redness, and actually helps to prevent breakouts before they happen." Victoria Jowett, Beauty Director
Shop now
21 Niod Flavanone Face Mask, £29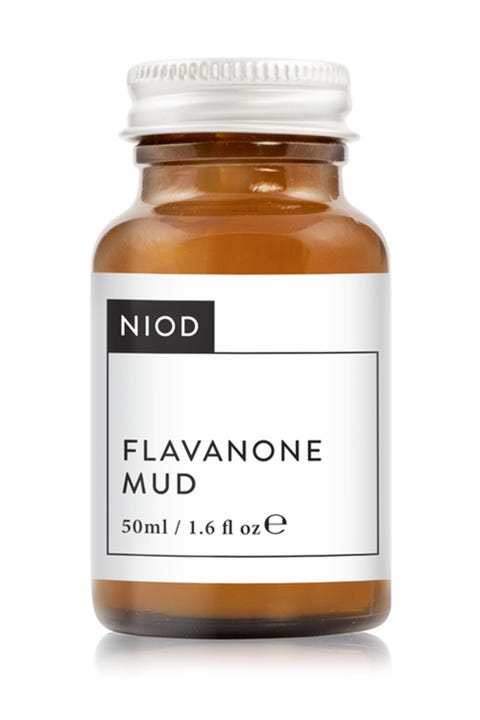 Courtesy of brand
"One of the things I want most in life (apart from an endless supply of Dairy Milk) is glowing skin. Normally I can only achieve the glow I like from makeup but after using this decongesting face mask, my skin literally glows through my foundation. Packed with three different types of clay, it does have quite a tingling effect but it's well worth it for the end result." Laura Capon, Deputy Beauty Editor
Shop now
22 Natural Moisturizing Factors + HA
Courtesy of brand
The Ordinary cultbeauty.co.uk
£4.90
Shop now
"You don't need to drop £££ to find the best moisturiser, this purse-friendly formula offers immediate hydration thanks to it's multiple amino acids, fatty acids and hyaluronic acid. It's non-greasy and absorbs fast enough for you to apply makeup directly afterwards. For under a fiver, you can't beat it." Victoria Jowett, Beauty Director
23 MV Organics Rose Plus Booster Oil, £77, & MV Organics Rose Soothing Protective Moisturiser, £27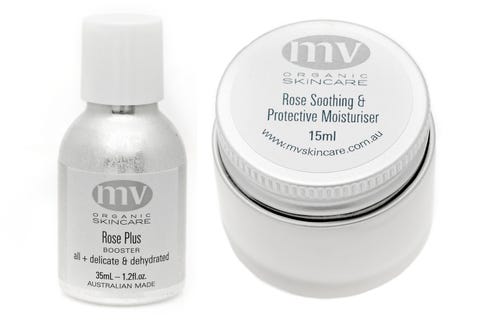 Courtesy of brand
"These two are my go-to for hormonal skin days. Once a month (without fail) I'll get a couple of those nasty cystic spots – you know the ones that feel like you have a an actual grape sitting under the surface of your skin? Well this duo is the only combination of products that vastly improve my hormonal flare ups. I'll mix a few drops of the Rose Plus oil in with the moisturiser, the high quality essential oils (including rosehip and jojoba) soothe and help promote healing, so they cut the life of those cystic spots in half. Instead of being plagued with breakouts for over a week, my skin is back to it's former glory in a day or two." Victoria Jowett, Beauty Director
MV Organics Rose Plus Booster Oil, £77
Shop now
MV Organics Rose Soothing Protective Moisturiser, from £27
Shop now
24 SkinCeuticals C E Ferulic Serum, £135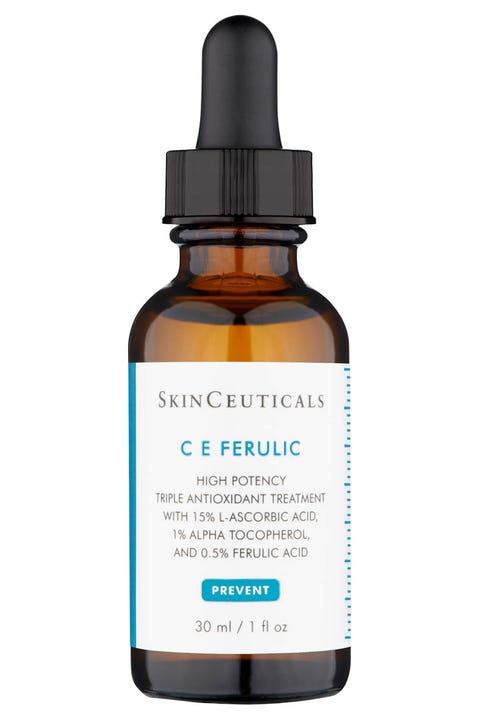 Courtesy of brand
"What started out as something I only applied here and there when I could remember, is now a staple in my morning skincare routine. A potent antioxidant cocktail that targets everything from dulness, to ageing to pigmentation – it might be pricey, but I really do think it's worth every penny." Gabrielle Dyer, Senior Beauty Writer
Shop now
25 Glossier Milky Jelly Cleanser, £15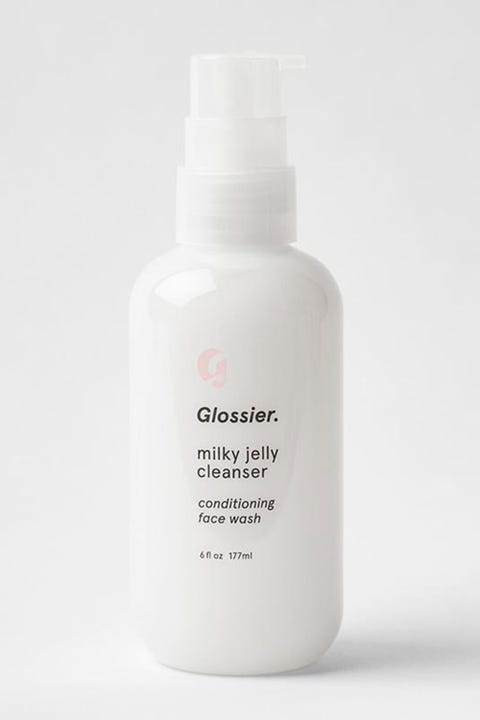 Courtesy of brand
"I always double cleanse…mainly because I wear a lot of makeup. I use this after I've removed the bulk of my makeup because it leaves my skin feeling super soothed and I never get that horrible tight skin feeling with it." Laura Capon, Deputy Beauty Editor
Shop now
26 Calming Serum
Courtesy of brand
Dr. Barbara Sturm cultbeauty.co.uk
£175.00
SHOP NOW
"Ok, hear me out, I know that this is a LOT of money to spend on skincare, but this is one of the best serums I've ever used (and trust me, I don't say that lightly). Why? Because every time my skin freaks out, this serum calms it down asap. From hormonal breakouts, to redness, dry patches or texture issues, this soothing formula contains an active, plant-based complex that calms skin, taking down redness and reducing irritation." Victoria Jowett, Beauty Director
27 Evolve Hyaluronic Serum, £30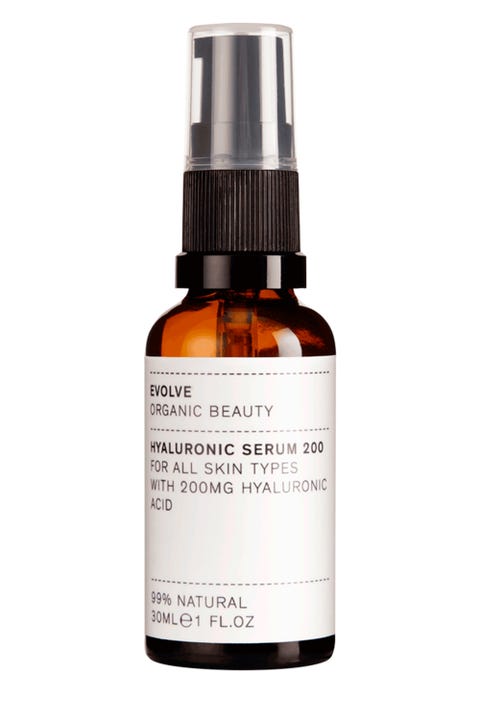 Courtesy of brand
"Do you ever look at your skin in the mirror and feel like it's just a bit bleh? Maybe it's just me, but somedays my face looks dull, tired, and like i've been up all night – even though I'm a grandma and like to go to bed at 10pm. Whenever my skin gets like this I slather my face in Evolve's Hyaluronic Acid Serum. Not only is it 99.3% natural (which means it's made up of non-toxic, non-synthetic ingredients), but it's like a big drink of water for thirsty skin. Pop it on before any moisturiser and it'll get rid of all signs of dehydration." Victoria Jowett, Beauty Director
Shop now
28 Clinique Take The Day Off Cleansing Balm, £24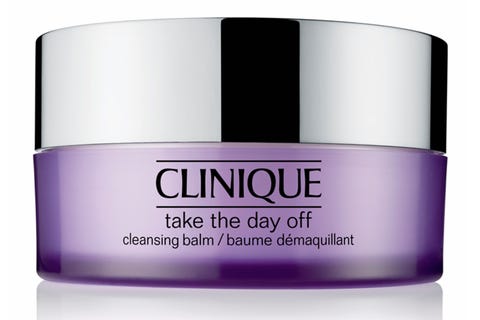 Courtesy of brand
"The quicker I can get my makeup off the better, that's why I love this balm as I can just rub it all over my face, rinse with a wet flannel and it gets rid of everything in one go. Way quicker than scrubbing your face with 5 orange stained makeup wipes." Laura Capon, Deputy Beauty Editor
Shop now
29 Neal's Yard Remedies Rose Face Wash, £17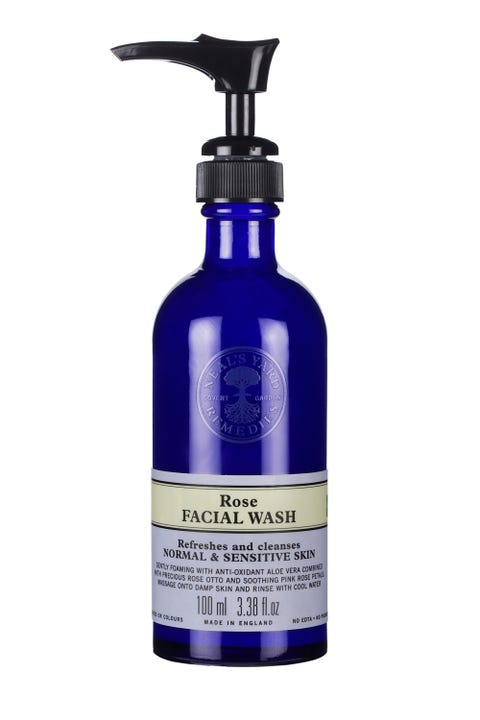 Courtesy of brand
"I like my cleanser to do just that, cleanse. I really don't have the time or patience to triple cleanse my face every day with a balm, oil, and then a cream. I just want one product that does the whole job (preferably in less time than it takes to make a cup of tea). NYR Rose Face Wash does just that, removes all my makeup, including mascara, and leaves my skin feeling fresh and clean – with stripping it of all it's moisture. Basic, but it works."Victoria Jowett, Beauty Director
Shop now
30 L'Occitane Divine Cream, £78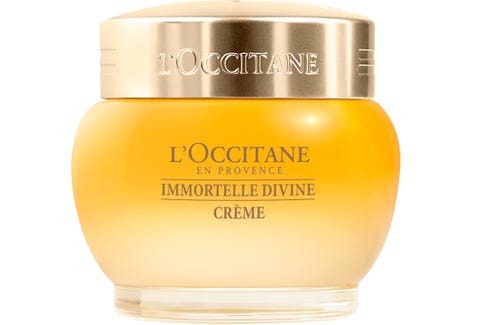 "I wouldn't say I'm a loyal fan of one moisturiser, but I'm nearly at the end of this pot of creamy loveliness, which is a good sign. Recently updated with a higher hit of Immortelle essential oil (which boasts double the anti-ageing anti-oxidants of Vitamin E, apparently), I've had more skin compliments than ever, despite my Botox wearing off, having full-blown flu and not enjoying an unbroken night's sleep in eighteen months (don't have kids, kids)." Cassie Powney, Beauty Editor
Shop now
31 Colbert MD The Stimulate Serum, £135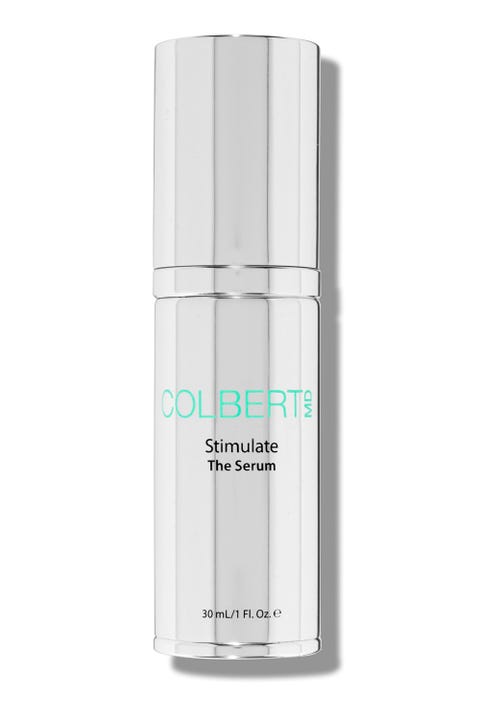 Courtesy of brand
"I'm an impatient person, I like to see a difference the day after I use a product and no other serum works quite as hard as this one from Colbert MD. The formula is loaded with glycolic acid, which helps improve skin texture and tone, leaving my complexion clearer pretty much overnight." Victoria Jowett, Beauty Director
Shop now
32 Medik8 R-Retinoate, £135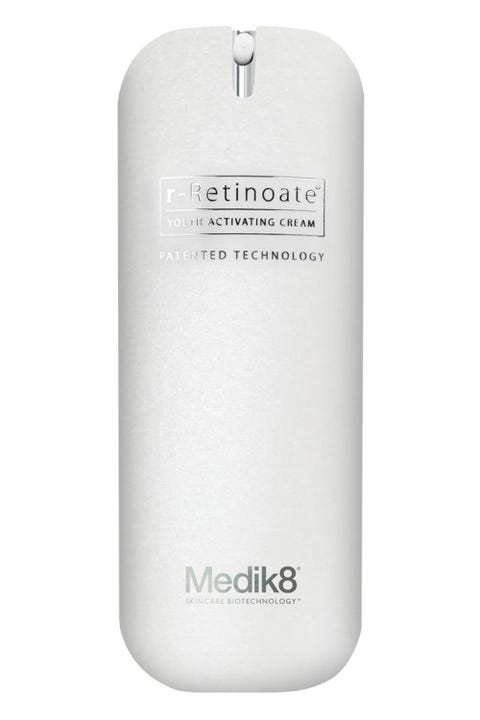 Courtesy of brand
"OK, so, this is spenny and I didn't think retinol was right for me, and then I was introduced to this. It's technically not retinol but is a type of Vitamin A and it helps skin to repair itself. It's non-irritating (like some retinols can be) and suitable for sensitive skin. I use it every night and honestly, the change in my skin is incredible. I never want to be without it." Lucy Partington, Former Beauty Writer
Shop now
33 Frances Prescott Tri-Balm, £46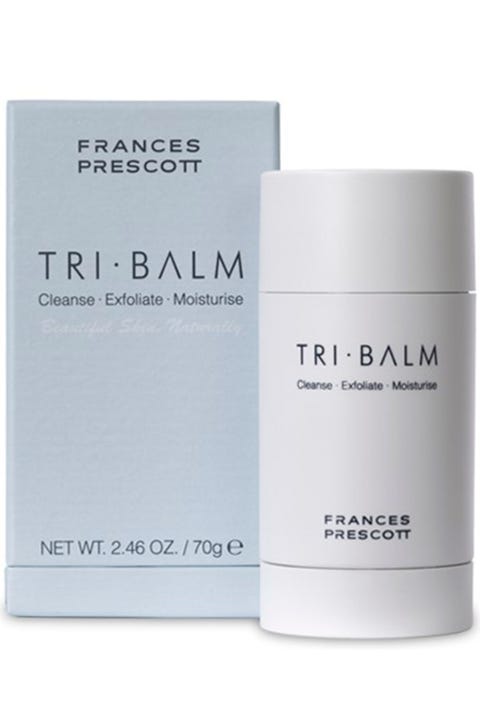 "Nothing slays those final traces of make-up better than a face balm and a hot cloth. This one comes in a handy portable stick, and cleanses, exfoliates and moisturises in one simple step. It contains no nasties (synthetic chemicals, parabens or silicones) and smells like an expensive spa, thanks to all the nurturing plant-based essential oils Frances has packed in." Cassie Powney, Beauty Editor
Shop now
34 Allies Of Skin Promise Keeper Blemish Sleeping Facial, £110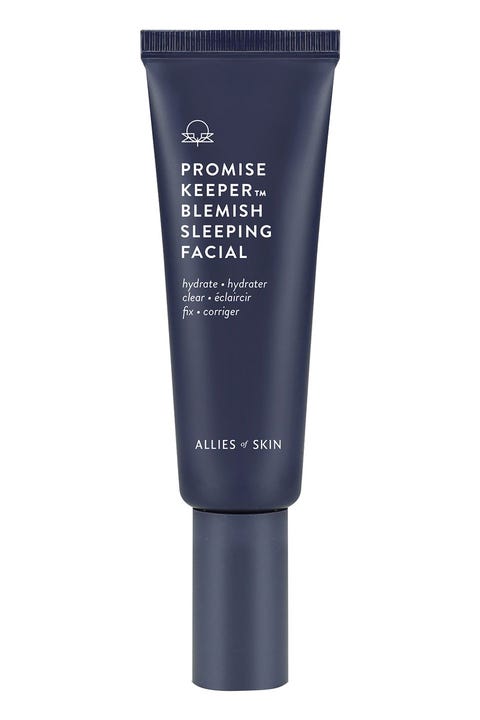 Courtesy of brand
"I can honestly say i've never come across a product that works SO quickly and so well. At first, I didn't really get it. An overnight mask, with the texture of a serum that claims to brighten, blitz spots and generally improve your complexion ten fold. This is one of the very few products that truly lives up to the hype – it does all of this and WAY more, so much so that the morning after I always look like I have just had an hour's facial. Its magical powers can be pinned down to ingredients: alpha hydroxy acids, natural enzymes, probiotics and antibacterial colloidal silver. It's truly an unbelievable product." Gabrielle Dyer, Senior Beauty Writer
Shop now
Digital Beauty Director Vic is the Digital Beauty Director here at Cosmopolitan.com/UK.
This content is created and maintained by a third party, and imported onto this page to help users provide their email addresses. You may be able to find more information about this and similar content at piano.io